Gate of Heaven Hosts Annual Memorial Day Field Mass 2022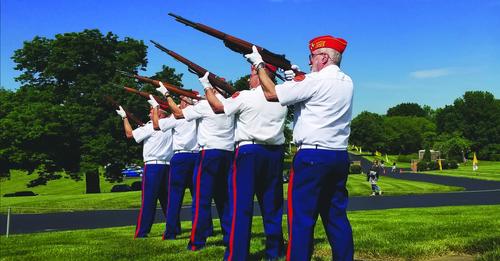 CELEBRATING VETERANS: GATE OF HEAVEN HOSTS ANNUAL MEMORIAL DAY FIELD MASS
By The Catholic Telegraph – Bonny Van
May 2022
Every Memorial Day, hundreds gather at Gate of Heaven Cemetery in Cincinnati to remember the military men and women who served our country.
"It's such a community effort," said Tom Jordan, Director of Gate of Heaven and Calvary Catholic Cemeteries in the Archdiocese of Cincinnati. "Everybody has a role to play. We have a lot of volunteers and organizations who call year after year asking if we're going to need them."
The event began when a father wrote to Father Norbert J. Miller, then director of Gate of Heaven, in March of 1948, said Kate Thesing, Gate of Heaven's community outreach coordinator.
"This father's son was a Lieutenant in World War II and was lost in the Pacific, killed in action Feb. 5, 1945," Thesing said. "[The] father wanted to purchase a lot on the sacred grounds to be ready as he and his wife waited for the remains of their son to be brought back home that summer of 1948."
At the time, Memorial Day was known as Decoration Day, established on May 30, 1868, for the Civil War's fallen soldiers. With the burial of the young soldier and others who served America at war, Gate of Heaven started its own tradition for a remembrance Mass on Decoration Day.
In 1968, 100 years after Decoration Day's creation, Congress passed the Uniform Monday Holiday Act that established Memorial Day as the last Monday in May. Decades later, the Memorial Day Mass at Gate of Heaven Cemetery continues, with more than 700 attendees expected this year on May 30.
"We structure the day to focus on the Mass," Jordan said. "The Mass is the highest form of prayer and we're praying for souls, praying they're united with God and we're thanking them and we're grateful for their service. In addition to the archbishop being here, the Holy Spirit is very obviously present that day. You can feel it. "
Activities begin at 10:30 a.m. with a veteran guest speaker; a formal laying of the wreath on a WWI veteran's grave; and a U.S. Marine gun salute. Approximately 7,000 American flags are distributed by volunteers to mark veterans' graves throughout the 165-acre cemetery.
"We get a lot of interest from the local veterans' organizations and police forces, so there's a lot of patriotism out there and a lot of people are willing to give their time and efforts to honor the veterans," Jordan said. "Another element is the Cincinnati War Birds. It's a tradition for them to fly over various cemeteries. It's pretty inspiring when you see them fly in formation over the cemetery," he added.
This year's Mass will begin at 11 a.m. with celebrant Archbishop Dennis M. Schnurr and the youth choir, directed by Ron Miller from St. Maximilian Kolbe Church in Liberty Township. Refreshments will follow. Participants are asked to arrive early for parking and to bring a lawn chair.
"We want to stress that anybody's welcome," said Jordan. "[It's] a good way to start the holiday weekend and pay honor to the veterans. And, there's no better way to start the day than with Mass."
This article appeared in the May 2022 edition of The Catholic Telegraph Magazine. For your complimentary subscription, click here.