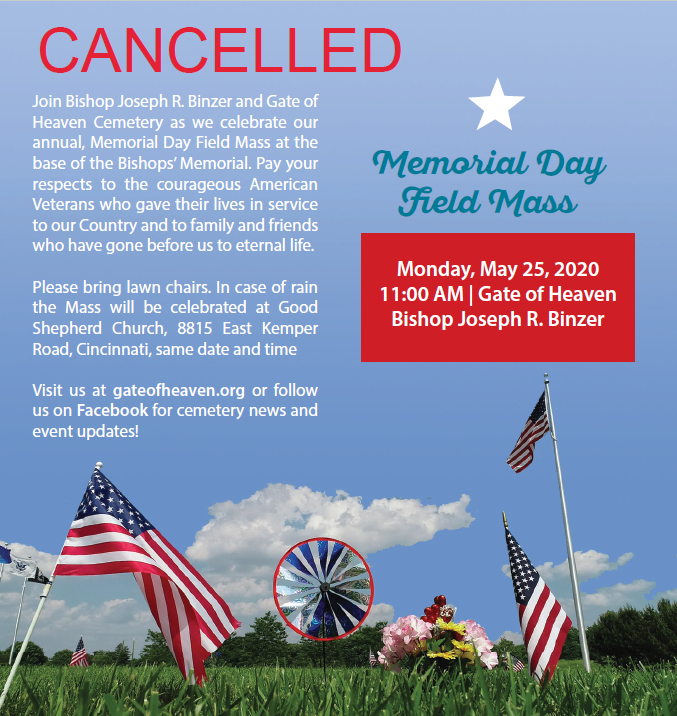 Cancelled- Memorial Day Field Mass
May 25, 2020 @ 11:00 am

-

12:00 pm
This Event Has Been – Cancelled
Public celebration of the Memorial Day Field Mass at 11:00 AM on Monday, May 25th at the Gate of Heaven Catholic Cemetery is cancelled.
The Cemetery Gates will be open all day on Monday, May 25th for visitation.
Dear Friends and Family,
In the current environment, it's important for each of us to be much more conscious of our inter-personal contact than we may have previously been accustomed. In keeping with guidance from our local and state authorities and the Archdiocese of Cincinnati, we at Gate of Heaven Catholic Cemetery have enacted several protocols in an effort to ensure that we, and all of our visitors, are protected from potential exposure to the COVID-19 virus.
As a result of this effort, and in accordance with the bishops of Ohio's decision to suspend temporarily all publicly celebrated Masses/liturgies, at least through May 25th, we have determined to cancel the public celebration of our Memorial Day Field Mass for the souls of those American Veterans who gave their lives in service to our Country and to family and friends who have gone before us to eternal life.
We will continue to monitor developments in the effort to limit exposure to the COVID-19 virus and its potential transmission throughout our local area, including our homes and workplace and make additional adjustments as warranted. Please continue to pray for all of those who are infected by this illness, and others, and for all of us as we manage through this crisis.
Christ's peace,
Thomas J Jordan
Tell a friend!