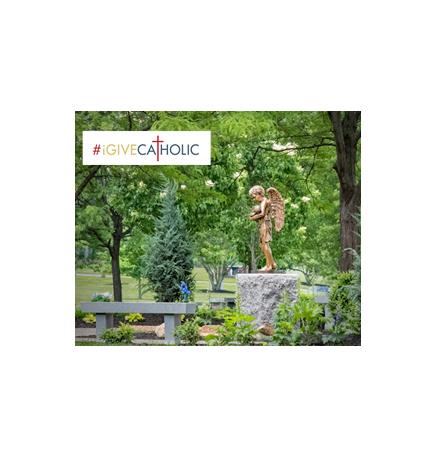 I Give Catholic – Giving Tuesday
What is I Give Catholic –
For the first time, the Archdiocese of Cincinnati is delighted to participate in the #iGiveCatholic Giving Day! Now in its 4th year, #iGiveCatholic is celebrated annually on #GivingTuesday, a global day dedicated to giving back. Declared "the most successful Catholic crowdfunding event to date" by the National Catholic Register, the giving day kicks off the charitable season and brings the Catholic community together to give thanks and give back to the organizations that shape our souls: Our parishes, schools, and nonprofit ministries.
Help Support Families who have experienced a lose due to a stillborn or miscarriage!
All human life is sacred. Stillborn and miscarriages should be given a proper, dignified, and reverent burial. For that purpose Gate of Heaven Cemetery provides our Cincinnati Catholic Families a free grave space with in our baby garden section. Your generous donation will continue to assist these families with carrying out this corporal work of mercy and providing  a sacred resting place for their precious angle.
Click on the link below to donate today!
https://cincinnati.igivecatholic.org/organizations/gate-of-heaven-cemetery-cincinnait
Tell a friend!